"Academic Advising is all about making students feel that they can be successful ... Our students come to us with academic goals ... with career goals ... with life goals ... They come to us with dreams and passions. They come to us wanting to become people that they aren't now. They come to us wanting to not only better themselves, but better their families, better their communities, better their cities, better their countries, better the globe ... That's why we do what we do. That's why academic advising is important ... it's about changing students' lives." - Charlie Nutt (Past NACADA Executive Director, 2014).
At Saint Xavier University, we believe that academic advising is a pivotal component of the educational experience, used to empower students to think critically, and to explore and identify academic and career interests. Through guidance and mentorship, advising encourages academic excellence and accountability, and helps students to realize their full potential.
Academic advising is a shared responsibility between student and advisor. Advisors, whether staff or faculty, work to inspire students by building relationships, empowering self-awareness and reflection, connecting students with appropriate resources, fostering personal development, and supporting various college-to-career pathways. Although advisors provide guidance and recommendations, students are ultimately responsible for making academic decisions and satisfying degree requirements.
Academic Advising practices at Saint Xavier are guided by the National Academic Advising Association's (NACADA) core competencies and core values as well as guidelines provided by the Council for the Advancement of Standards (CAS) in Higher Education.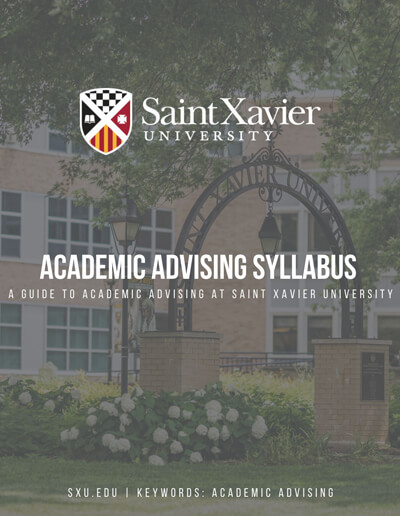 Who are Academic Advisors?
Academic advisors play a crucial role in guiding and supporting students throughout their educational journey. Academic advisors serve as:
Educators
Advocates
Mentors
Experts
Career Guides
Resource-People
Student Learning Outcomes
By engaging in the academic advising process at Saint Xavier University, students will be able to:
Recognize the value of general education as it relates to real-world skill development.
Self-advocate and seek appropriate academic and support resources as needed.
Foster appreciation for personal identity and the diversity of identities in others.
Comprehend the value of experiential learning for supporting academic and career goals.
Assume responsibility for meeting degree requirements.
Demonstrate understanding of advising technologies including the student planning system.
Develop intellectual habits that lead to lifelong learning.
Identify a major and career pathway suitable for their skills, interests, and values.
Expectations of Students and Advisors
As noted above, academic advising is a shared responsibility between student and advisor and both have expectations throughout the academic advising process.
Advisor Expectations
Advisors are champions of student success and should aim to build meaningful relationships with students to guide them along their academic and career pathways. As part of their role, advisors should:
Maintain regular contact with advisees by conducting check-ins to identify barriers and see how they are socially, emotionally, and academically.
Develop meaningful relationships with students by getting to know their interests, skills, and values to help them connect career aspirations with curricular interests and program requirements.
Stay current on institutional rules, policies, general education requirements, program requirements, advising best practices, and relevant technology, e.g., Student Planning, Navigate, mySXU portal, and Canvas to name a few.
Ensure confidentiality and professionalism throughout the advising process.
Engage in available professional development opportunities and training.
Assist students with course planning, program information and degree requirements, and provide resources and information to help encourage and promote academic progress.
Guide students in recognizing the significance of general education and specifically a liberal arts education for holistic growth, critical thinking, and versatile career opportunities.
Provide an interactive, collaborative and encouraging environment based on mutual trust, respect, open communication, and shared responsibility.
Make appropriate referrals when needed and collaborate with student support services to ensure that the individual needs of students are identified and addressed.
Student Expectations
Students are expected to actively participate in the advising process and take a proactive approach in achieving their academic and career goals. As part of the process, students should:
Maintain regular contact with the advisor by scheduling and attending appointments as well as regularly checking email.
Demonstrate openness by effectively communicating any challenges that affect academic performance and goals to the advisor.
Understand the advising process as a shared responsibility between the academic advisor and advisee.
Engage in career discussions with the advisor and share career interests, values, and skills to explore how these align with academic pursuits.
Stay informed and up to date on academic requirements, program evaluation, and general education requirements.
Recognize the value of a liberal arts education and general education as a foundation to personal and professional growth.
Exhibit professionalism by consistently arriving on time for appointments, being prepared with necessary materials, and demonstrating respect for the advisor's time and expertise.
Utilize available tools and resources and seek assistance when needed.
Four-Year Success Plan
The Four-Year SUCCESS Plan outlines various academic and professional tasks to complete while in school to help you achieve academic and career success. You will frequently discuss the Four-Year Success Plan with your academic advisor as you continue your academic journey. To access a printable version of the Four-Year SUCCESS Plan, please refer to page 3 of the Student Success Guide.
Advising Documents, Forms, and Resources
Advising and registration forms and resources needed throughout a student's academic career at Saint Xavier University (along with definitions) can be found below:
Records & Registration
For all official forms tied to records/and or registration, please visit the Records and Registration Form page.
Visit Page
Important Offices and Points of Contact