Get Involved
We want you to have fun during your time at Saint Xavier University. Whether in the diner, residence halls, chapel or Shannon Center, you are engaged in the process of learning about yourself and others in the community. Make your mark on campus by participating in many student activities.
Saint Xavier University has a variety of on campus traditions. For more information about RSOs and their meetings visit The Den!
Contact Us
We are here to help!
College is a time of transformation and growth, and we have programs in place to help you succeed through every step of your journey.
Holistic academic advising.
Support coaching and outreach.
Personal and career development.
Tutoring and learning support.
Resources for first-generation students and those with documented disabilities.
Student leadership opportunities.
Internships.
Getting to & Around Campus
Whether you're a commuter, resident student or prospective student wanting to visit our beautiful campus, there's a variety of resources available to help you make your way to and around campus.
Campus Safety
Saint Xavier University's Public Safety serves the students, faculty, staff and visitors of the University. Public Safety is committed to the highest quality of protective services in order to maintain and improve our unique educational environment and quality of life.
Contact Us
Emergency: Ext. 3911; 773-298-3911
Non-Emergency: Ext. 3541; 773-298-3541
Confidential Hotline: Ext 3838; 773-298-3000
Email: publicsafety@sxu.edu
Campus Service Center: Room CSC 100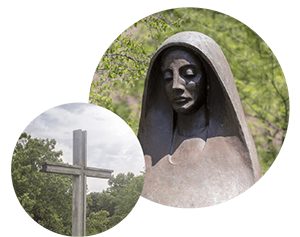 Spiritual Life
A Catholic university exists for one purpose: to help students become better human beings. Yes, they may know more, be fitter and have more friends when they finish college. But if they are not better people, we have failed. "Where Success Meets Purpose" means taking what you learn here and using it for your success and for the good of the world.
CONTACT US
Health and Wellness
Your health and well-being are priorities, and we invite you as a student to utilize our on-campus resources and services designed to support your health and wellness needs.
Learn More
Dining on Campus
Country House, which provides our on-campus dining experience, takes pride in using fresh ingredients and scratch recipes to put their work and resources into the food.
Learn more
Health and Wellness
Your health and well-being is incredibly important, and you'll find a variety of resources around campus that will help you feel your best.
Health Center
We are unique in that we serve students, faculty/staff, and members of the community. Our mission is to provide accessible and affordable holistic care that upholds the SXU standard for excellence.
LEARN MORE
Counseling Center
The mission of the Counseling Center is to guide students toward personal wellness, balance and growth. Licensed counselors facilitate this through personal counseling and wellness education.
LEARN MORE
Fitness and Recreation
The Shannon Center is an 85,000 sq. ft. private campus facility and offers free access to fitness classes, intramurals and club sports for SXU students, faculty, staff and Sisters of Mercy with a current Cougar ID card.
LEARN MORE