Transfer Students
Welcome to Saint Xavier University!
Finding the right fit for your transfer needs is incredibly important. We're glad you're considering SXU and are proud to offer a wide variety of high-quality programs to meet you where you're at, and assist you in reaching your higher education goals.
We encourage you to connect with your transfer admission counselor and academic advisers as you navigate through the admission process. Transfer credit evaluations are also available to assess your incoming credit and help guide your transition to SXU.
We strive to make the transfer process as seamless as possible for each individual student. Depending on your area of study, there may be different or additional criteria needed in the admission process.
Submit a free application for admission. Saint Xavier operates on a rolling admission basis for non-nursing transfer students. (Traditional Nursing and LPN to BSN application deadline: April 1 for summer/fall semester, October 1 for spring semester)
Send in official college transcripts from all institutions attended. Students with fewer than 30 credit hours are required to submit their official final high school transcript. Electronic official transcripts can be sent to admission@sxu.edu.
Applicants for our nursing program are required to submit additional information. A complete transfer nursing application may include: an official TEAS exam score, a Nursing essay of interest, letters of recommendation, and a resume/CV. See our Transfer Into Nursing page for more details on each program's specific admission requirements.
Get Involved
We want you to have fun during your time at Saint Xavier University. Whether in the diner, residence halls, chapel or Shannon Center, you are engaged in the process of learning about yourself and others in the community. Make your mark on campus by participating in many student activities.
Saint Xavier University has a variety of on campus traditions. For more information about RSOs and their meetings visit The Den!
Contact Us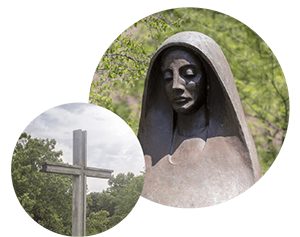 Spiritual Life
A Catholic university exists for one purpose: to help students become better human beings. Yes, they may know more, be fitter and have more friends when they finish college. But if they are not better people, we have failed. "Where Success Meets Purpose" means taking what you learn here and using it for your success and for the good of the world.
CONTACT US
Health and Wellness
Your health and well-being are priorities, and we invite you as a student to utilize our on-campus resources and services designed to support your health and wellness needs.
Learn More
Dining on Campus
Country House, which provides our on-campus dining experience, takes pride in using fresh ingredients and scratch recipes to put their work and resources into the food.
Learn more